The only Wood County hauler offering village contracts with organic
curbside recycling. See Luckey Village Recycling.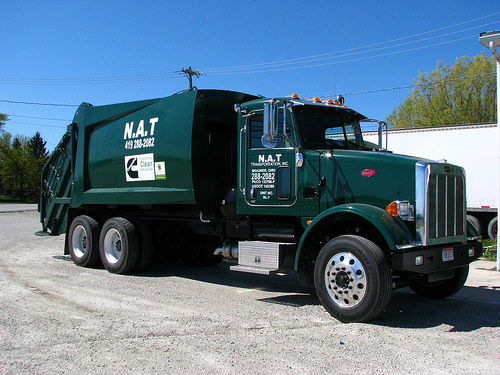 The newest addition to our fleet, powered by clean compressed natural gas.
Using fuel produced in the USA.
For the Most Current News and Announcements please find us on Facebook & Twitter.


To see Holiday Delays throughout the year, click Here
N.A.T. Transportation first began as a freight hauler in 1968. In 1978 N.A.T. Transportation purchased their first garbage truck, and have been serving the trash and waste removal needs of residential, commercial and industrial customers in four counties in Northwest Ohio ever since. We are proud of our excellent reputation in the waste removal field, and invite your inquiries concerning the services we offer. All solid waste is disposed of in EPA approved subtitle D landfills. All liquid waste is disposed of at a licensed municipal disposal facility. Please call us at (419) 288-3143 or (800) 332-2783.

N.A.T. offers the following services
Compaction Containers
Compostable Recycling
Concrete Recycling
Concrete Washout
Curbside Trash
Dumpster Roll Offs
Dumpsters
Garbage Service
Recycling Service
Refuse Service
Residential Trash
Roll Offs
Septic Pumping
Trash Carts
Trash Compactors
Trash Service
Vacuum Truck Service
N.A.T. offers services in these nearby towns
| | | | |
| --- | --- | --- | --- |
| In Wood County: | | | |
| Bairdstown | Bloomdale | Bowling Green | Bradner |
| Custar | Cygnet | Dunbridge | Fostoria |
| Grand Rapids | Haskins | Hoytville | Jerry City |
| Lemoyne | Luckey | Millbury | Milton Center |
| North Baltimore | Pemberville | Perrysburg | Portage |
| Risingsun | Rudolph | Stony Ridge | Tontogany |
| Wayne | West Millgrove | Weston | |
| | | | |
| | | | |
| In Sandusky County: | | | |
| Gibsonburg | Helena | Millersville | Risingsun |
| | Rollersville | Woodville | |
| | | | |
| | | | |
| In Seneca County: | | | |
| Amsden | Bascom | Fostoria | Kansas |
| | | | |
| | | | |
| In Hancock County: | | | |
| Arcadia | Fostoria | Van Buren | |
| | | | |
| | | | |